TL;DR – Spark email now allows you to adjust notification style, sound, vibration and LED color for different accounts or teams on your Android device, so you can avoid distraction and focus only on important emails.
An average US smartphone user gets 46 push notifications per day. It's pretty hard to focus on important and meaningful work while your phone is blinking and buzzing all day long. Much of the distraction comes from email as we're constantly bombarded with marketing newsletters, social notifications, and other irrelevant messages.
We've created Spark to fix it. Spark is a distraction-free email which lets you reduce noise and focus only on emails that matter. With its Smart Notifications, Spark email app alerts you only when someone important emails you and doesn't bother you with irrelevant messages.
Now, besides selecting what emails you're notified of, you can decide how these notifications behave. For example, you can set different sound and vibration patterns to quickly differentiate between your work and personal emails. This update is available on Spark for Android.
Update Spark for free, and let's see which notification options you can customize.
Notification style
Let's say you turned on Smart Notifications for both your work and personal accounts to receive notifications only from real people and won't get distracted by anything else. But the way you react to emails from various accounts may differ widely. While you'll want to act on most work emails as soon as possible, your personal correspondence can usually wait a bit. That's where notification styles in Spark come in handy.
Here are the levels of importance you can pick for notifications:
Urgent – notification makes a sound and stays on the home screen until you act on it.
High – makes a sound, is displayed in the status bar, on the lock screen, and in the notification shade.
Medium – no sound, is displayed in the status bar, on the lock screen, and in the notification shade.
Low – no sound, doesn't appear in the status bar. You can still find it in the notification shade.
To decide how your notifications should behave, open the Spark Settings > Notifications, select one of your accounts and pick the desired option under Notification Style.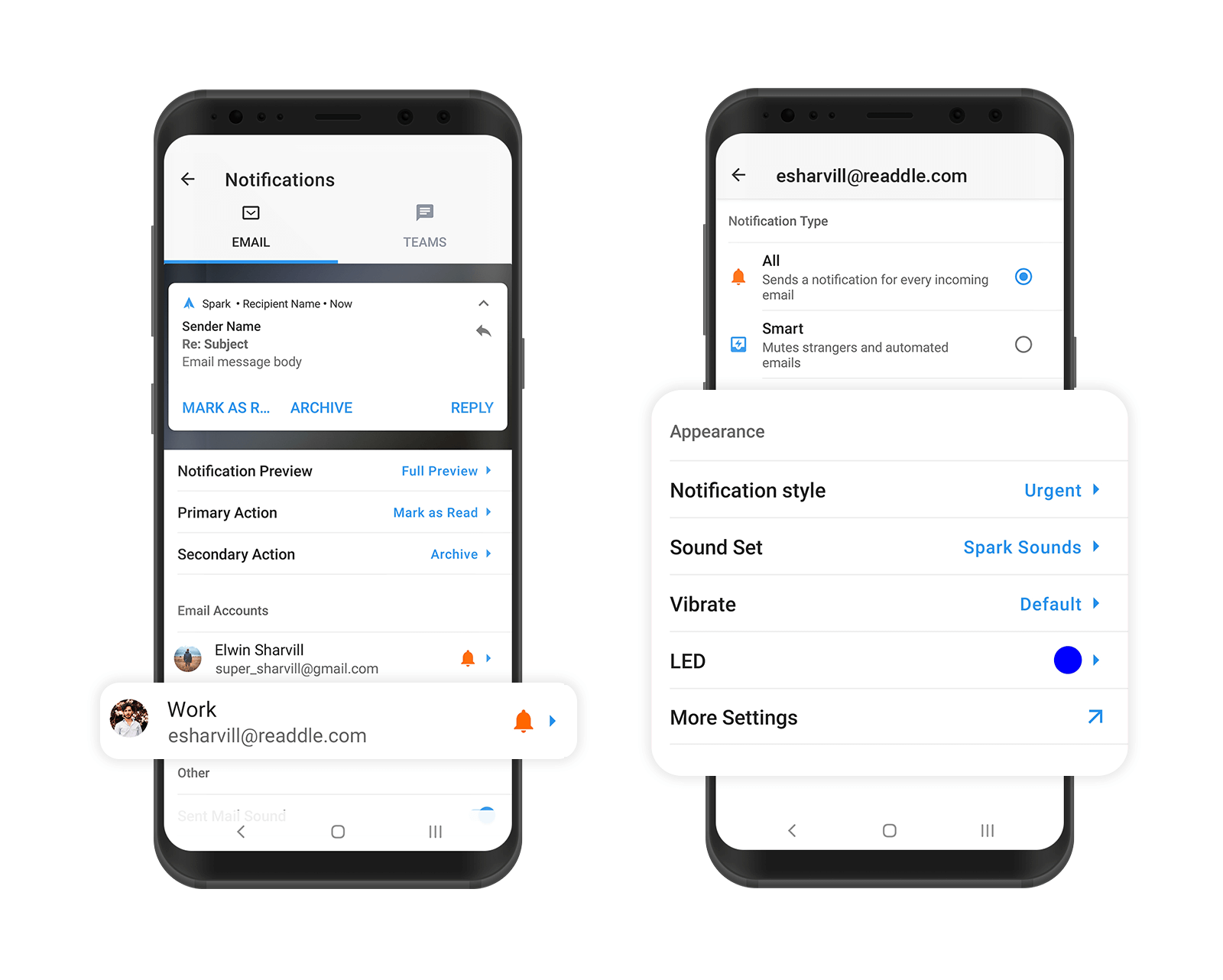 Sound
Spark lets you select different sounds for each of your email accounts. Navigate to the Spark Settings > Notifications, tap on the desired account and select System Sounds under Sound Set. Now, the new Sound setting appears on the menu, and you can pick the ringtone of your choice.
Vibration
With different vibration patterns in Spark, you can know where an email comes from without even picking a smartphone from your pocket. For example, you may set a double short vibration for your work email and a long one for your personal account. You can manage these options under Settings > Notifications > your account > Vibrate.
LED color
How about customizing LED notifications for each of your accounts? Now, this is an option in Spark. The app offers 5 different LED colors to choose from. For instance, when you get a work email, your phone can blink with a red light, so you'll instantly know what kind of notification you've just received.
To select the LED color, open Settings > Notifications > your account > LED. Please note: Spark shows this option only if your phone supports it.
Team notifications
All the customization options described above are also available for teams. You can decide how you'd exactly like to get notified when there is a new comment on a shared thread or someone @mentions you. With different notification styles, sounds, and vibrations at your disposal, it's a way easier to keep track of work discussions and differentiate between personal and team communication.
To manage team notifications, open Settings > Notifications and jump to the Teams tab at the top of the screen. If you have multiple teams, you can customize notifications for each of them.
---
Spark has always been a fully customizable email client, and we're excited to add more personalization options, so you can make the app truly yours.
Get Spark from Google Play and let us know what you think!