Email is a still one of the most basic forms of communication used on the internet today. Pretty much anything you want to do on the web - signing up for a service or app, registering on a website, purchasing a product or creating your own website - you need an email account to get all that information delivered to you. Of course, we also use email to communicate with our friends and family.
With all these kinds of email, our inbox is always overflowing with more emails than we can handle. Not all of the emails that we receive in a day are useful or relevant to us. A typical inbox receives plenty of marketing emails and newsletters, apart from the usual spam that we never bother reading.
Dealing with these unwanted emails is a major hassle, and there is a lot of time wasted on deleting emails or blocking unwanted emails on an iPhone or iPad. Thankfully, incredible apps like Spark help you deal with unwanted emails and make the process of blocking emails on iOS simple and easy.
Let's see how Spark helps you to block unwanted emails on iOS.
How to Block Unwanted Emails on iOS:
Download and launch the Spark Mail app on your iPhone or iPad.
Set up the email account that you'd like to use with Spark to block unwanted emails. You can add multiple email accounts in Spark.
Search for and open the unwanted email that you'd like to block.
Tap the three dots at the bottom, then tap on Block Sender.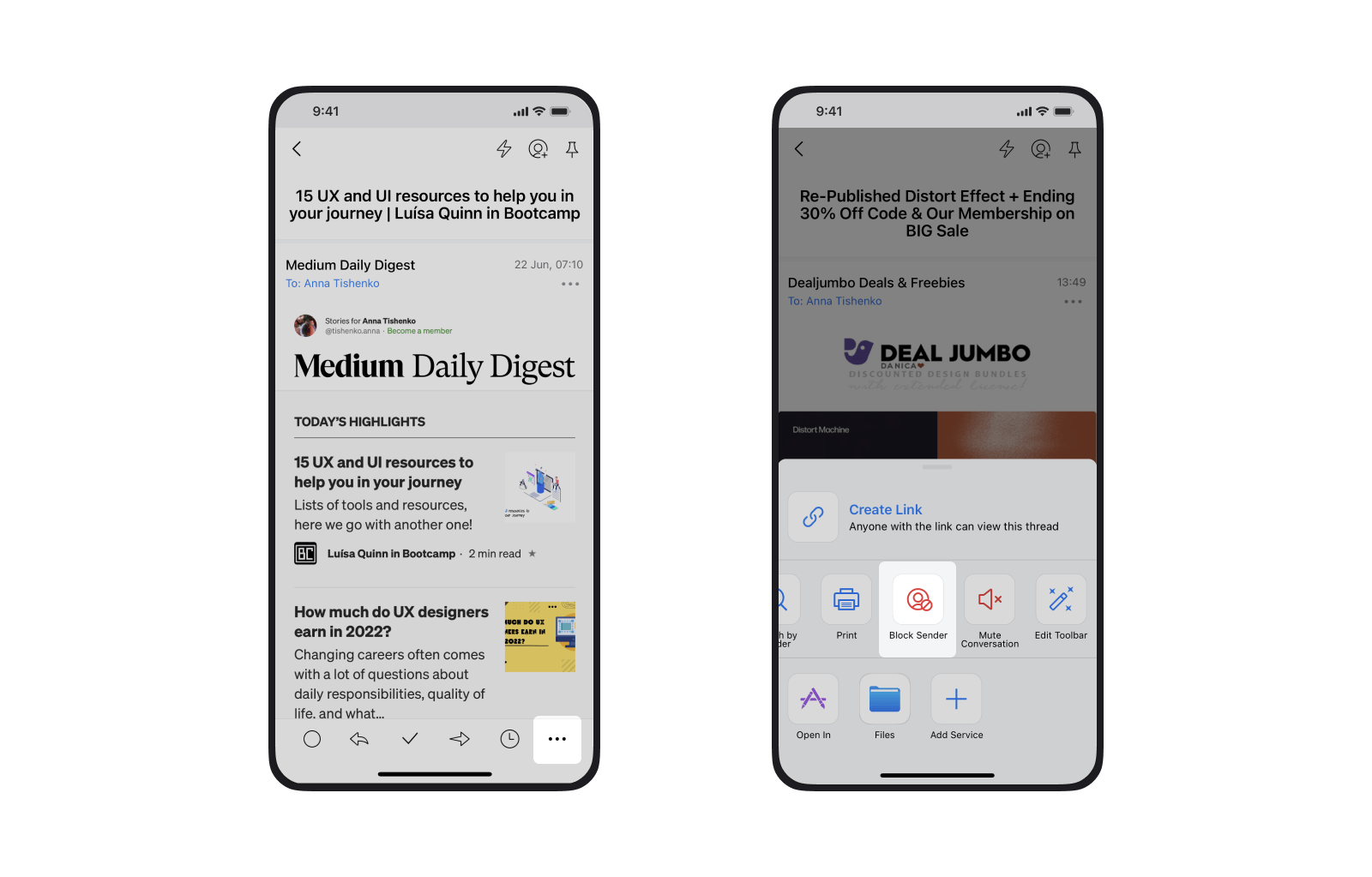 If you'd like to block all emails arriving from the sender's domain, choose Block Domain. For example, if you choose this option on an email that was sent from unwanted@spam.com, all future emails from @spam.com will be blocked by Spark.
The emails that are blocked by Spark can be viewed separately in the Blocked folder in the sidebar, so you can manually unblock a sender or domain whenever needed.
How to Filter Out Unwanted Emails on iOS:
Download and launch the Spark Mail app on your iPhone or iPad. Spark is a feature-rich email client for iOS that offers some incredible features over traditional email apps.
Set up and configure your email account in Spark. We have detailed guides on how to add an email account in Spark here.
Next, tap on the three lines at the top left of the screen to view the Spark Sidebar, then tap on the Smart Inbox option.
This is your Smart Inbox a unique feature of Spark that sorts and filters out unwanted and less-important email, so you can focus on Personal and Important emails first. Now all your emails are neatly sorted, leaving all your important emails at the top and moving all the unwanted and irrelevant emails to a separate area of Spark. You can customize your Smart Inbox in Spark's preferences.
Just like you've dealt with the clutter in your inbox, Spark helps you with the clutter of repetitive notifications. No one likes their phones constantly buzzing and alerting you, especially when you're busy. Spark Mail app comes with a feature called 'Smart Notifications' that alerts you only for Personal or Important emails, while leaving out irrelevant junk.
Let's find out how to block unwanted email notifications on an iPhone or iPad by disabling low-priority notifications.
How to Block Unwanted Email Notifications on iOS:
Download and Install Spark for iOS if you haven't already, and set up your email accounts in it.
Go to Spark's Settings > Mail Accounts, and then tap on your email account.
Here, you'll find three options under Notification Preferences.
Tap on the Smart option - this enables Smart Notifications for your email account.
Repeat these steps for every account you have configured in Spark Mail app.
With Smart Notifications, Spark will intelligently filter your new mail notifications and only alert you about the emails you care about. All of the marketing newsletters, notifications, and other irrelevant junk is silently delivered to your inbox, so you don't have to worry about your iPhone or iPad constantly buzzing you when you are busy. Smart Notifications is a great way to block unwanted emails on your iOS device with a few simple taps. And since these settings are per account, you can easily configure them just how you want them to work.
Download Spark for Free and get started with the best email experience available for iOS on the go. You can also get Spark for your Mac and experience the same incredible set of features when you are at a desk.